Exploring South Korean Nightlife: Bars, Clubs, and Live Music
February 27, 2023
/
Last Updated April 11, 2023
Reading Time:
7
minutes
South Korea is famed for its stunning natural landscapes, high-tech modern cities, lip-smacking cuisine, and other cultural delights.
If you're a night crawler looking to explore South Korea's nightlife, this country can make every party animal's dream come true.
Raring to paint the town red in South Korea? Here are the best bars, clubs, and live music venues that are worth checking out.
What Is the Nightlife Like in South Korea?
If you thought that South Koreans are all work and no play, think again! In fact, you may even find it difficult to keep up with them at bars, pubs, nightclubs, and live music clubs.
Where in South Korea has the best night nightlife?
The country's capital, Seoul, has a dynamic nightlife, perhaps one of the best in Asia. This makes the city a perfect destination for night owls.
South Korea nightlife is known for its award-winning dance clubs, bars, all-night cafes, and night markets. Most of these venues are in Hongdae, Gangnam, and Itaewon which are known party districts.
5 of the Best Bars and Clubs in South Korea
If you're looking to let loose and mingle in bars and clubs, here are five of the best ones in South Korea:
1. Club Avenue 535
Club Avenue 535 is a relatively new addition to Gangnam's nightlife and is known for being friendly to foreigners. Formerly operating under the name Answer, it combines electronic dance music with a trendy atmosphere that's a hit among its high-profile clientele. Think elaborate chandeliers, marble floors, laser lights, and famous DJs.
Apart from being a frequent venue for fashion and corporate events, local celebs (including K-pop stars) are often seen partying at Club Avenue 535. If you're heading to this happening venue, you may be pleasantly surprised to find yourself joining a hip launch party, costume party, an after-show party, or enjoying the beats from a well-known DJ.
Address: 213 Itaewon-ro, Yongsan-gu, Seoul
2. Club Madholic
Club Madholic is one of the top clubs in Seoul with great music, a massive dance floor, talented DJs, and a fun atmosphere. It also has affordable drinks, good vibes, and friendly staff that add to its experience.
Address: B1, 21, Jandari-ro, 405-18 서교동, Mapo-gu, Seoul
3. Woodstock Itaewon Bar
Woodstock Itaewon is an old bar in Itaewon and surely the neighborhood's oldest live music venue. It is famous for its warm, welcoming, old-world vibe and friendly atmosphere that attracts locals and foreigners.
It has also hosted performances by dynamic, young, and experienced bands for the past 20 years. On Fridays and Saturdays, you can enjoy listening to four different bands and dancing to their tunes.
Address: 19 Gangnam-daero 96-gil, Gangnam-gu, Seoul
4. Le Chamber
Gangnam may be one of the country's most internationally renowned business districts but it's also famous for its South Korea business nightlife. Initially, the bar Le Chamber in Gangnam looks like a regular old library. But when you push a certain book, a hidden door slides open to unveil a charming illuminated bar.
Sit back in one of the sunken lounge chairs beneath beautiful chandeliers and enjoy the mellow soundtrack from live piano music. Sip on drinks inspired by global flavors — each with its own narrative.
Address: Seoul, Gangnam-gu, Dosan-daero 55-gil, 42 지하 1층
Hours: daily 7PM – 4AM
5. Bar CHAM
Korea has a significant drinking culture, resulting in a plethora of bars and pubs to choose from. For a unique bar experience in Seoul, consider visiting Bar CHAM. This establishment was showcased in episode 3 of Netflix's Paik's Spirits and has been recognized on Asia's 50 Best Bars list. By merging contemporary cocktail ideas with traditional regional alcohol from various parts of Korea, Bar CHAM has made a name for itself. The bar's name, Cham, is a nod to the oak-inspired interior design of the cozy hanok setting.
Address: 34 Jahamun-ro 7-gil, Jongno-gu, Seoul
Live Music in South Korea: A Unique Experience
If live music is specifically what you're looking for, South Korea has many places that offer live performances ranging from huge concert halls to cozy clubs. Here are our top recommendations:
1. Olympic Hall
Located in Seoul Olympic Park, Olympic Hall is a performing hall for pop culture and the arts. It is a fantastic venue for concerts, omnibus recitals, and other live cultural performances.
Its cutting-edge stages, lighting, and sound equipment help the performers and audience connect with each other.
The bigger stage accommodates about 2,452 people and regularly hosts concerts by well-known K-pop idol groups, artists, and music bands. Muse Live, the smaller 240-seater stage, is where indie band concerts from different genres such as jazz, rock, hip hop, electronica, reggae, and more happen.
2. National Theatre of Korea
The 70-year-old National Theatre of Korea is South Korea's premier performing arts and repertoire company. It is the country's only theater that recreates and presents traditional art in contemporary ways.
The theater regularly hosts traditional Korean musical performances, p'ansori, classical concerts, operas, musicals, musical plays, ballet, and modern dance.
Since 2012, it has introduced and organized the National Repertory Season. This annual program highlights the country's new works and the best repertoire by various art groups in theater, traditional drama, orchestra, and dance.
Another popular performance is the Saturday Gugak Concert at the National Gugak Center in Seoul. Gugak is traditional Korean performing arts involving music, dancing and singing. It's a great experience if you're looking for something more traditional when in Korea. Book tickets here.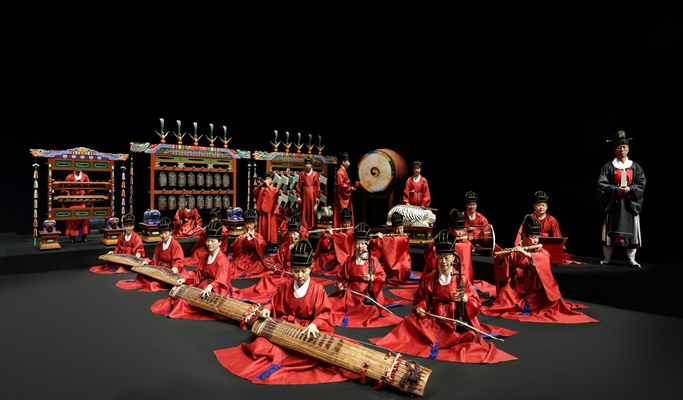 3. Boogie Woogie
Boogie Woogie is a jazz and blues club on Gyeonglidan Street, Seoul that hosts live music programs every night. The popular venue is usually swarming with music connoisseurs who are looking to soak up live jazz, funk, and soul performances by local and global artists.
It invites new artists nightly, so you can keep discovering talented new musicians and enjoying novel performances even if you frequent the place. The best part about Boogie Woogie is it doesn't have any entrance fees. An envelope is passed around and you can put however much you want in it depending on the performance.
Boogie Woogie also has an excellent selection of cocktails that you can sip as you sway to groovy tunes.
4. Strange Fruit
Strange Fruit is a wine bar in Hongdae that's a hotspot for young tourists and expats. It also hosts fantastic live music by indie bands every night. Whether you love dancing to music or sitting quietly in a corner listening, you can easily do so here. It has a wide variety of interesting music genres such as jazz, rock, metal, and punk.
5. Club FF
Club FF is a live club for rock music. Young locals and tourists frequent this place for modern rock, punk, metal, and emocore music. As the cradle of Hongdae's indie rock bands, Club FF has a solid line-up of bands with performances from talented global and local indie rock bands every evening.
If you're heading here for some live music, you'll experience a mellow, funky vibe that is distinctive among rock performance halls.
After the live performances end at 11 pm, you can stay for an all-night DJ party at the venue and dance to powerful beats.
6. All of Rock (A.O.R)
A.O.R is a popular performance hall in Hongdae where you can listen to budding as well as famous rock and roll indie bands. Young music fans, including locals and foreigners, visit this place to enjoy the local culture and music.
Performing rock bands showcase original rock and roll music. They also experiment with different musical techniques. These post-hardcore bands blend heavy-core sounds with melody lines. You can also check out trans-hardcore bands that add flair to alternative metal music.
11 Things You Should Know Before Visiting South Korea
It's always good to learn about the culture of the country you're visiting. If it's your first time in South Korea, here are basic etiquette to keep in mind:
Accept a gift with both hands, but don't open it until the giver is no longer present.
If you get a gift from someone, give a gift with a similar value as the one you received.
Wrap gifts attractively. Use bright-colored wrapping paper like green or yellow instead of dark colors like red.
If you're drinking in a group, the youngest at the table will serve the others.
Don't point with your chopsticks or let them stick out of your bowl.
If you receive an invitation to go for drinks or to a party after dinner, accept it.
If you've been invited out, you can offer to pay the bill, but the host typically pays for everyone.
Tipping isn't common and not necessary in most places.
These tips will keep you in good stead when visiting South Korea.
Conclusion
South Korea nightlife is a wonderful way to experience the country's culture at night and live it up the Korean way. Head to any of the bars, clubs, and live music venues on this list and get ready to party like a local!
If you enjoyed reading this blog post, learn about other Asian destinations here.
Recommended Travel Guides for Korea
If you want to learn more about South Korea and have a handy travel guide in your pocket, check out these three options below:
This Top 10 Seoul guide is a great pocket guide that breaks down the best of Seoul into helpful lists of ten – from selected highlights to the best museums and galleries, and the most authentic restaurants, tearooms, bars, shops, and markets. I personally helped update the most recent version of this guide. Buy this book.
You really can't go wrong with a lonely planet guide in your hand luggage! I'm a huge fan of Lonely Planet and own this guide myself. What I love is the brand-new pull-out, passport-size 'Just Landed' card with wi-fi, ATM and transport info – all you need for a smooth journey from airport to hotel! Buy this book.
Calling all my solo female travel ladies out there – this guide is amazing! Part of the #1 Travel Guidebook Series for Women (and couples), this take on South Korea will help you avoid the scams, creeps, and tourist traps and skip ahead to the cities and adventures that are worth your time (and money)! Buy this book.
Linda's Pick
I earn a commission if you make a purchase, at no additional cost to you.
04/20/2023 05:57 am GMT
Best Guide Covering All Of Korea
I earn a commission if you make a purchase, at no additional cost to you.
04/20/2023 06:02 am GMT
Best for Solo Female Travelers
I earn a commission if you make a purchase, at no additional cost to you.
04/19/2023 11:03 pm GMT
You might also like these articles:
Get your Free Seoul City Check List
This downloadable check list for Seoul contains insider information on what to see, do, eat and where to shop and party in Seoul, South Korea.
Thanks for stopping by my blog. I hope you find what you are looking for and return for more.
Linda Goes East Shop
Shop Korea-inspired home decor prints. Unique. Affordable. Korea.