Forest Resom in Jecheon: Wellness Resort in Korea
July 31, 2020
/
Last Updated March 9, 2023
Reading Time:
4
minutes
If you are looking for a relaxing wellness resort in Korea, Forest Resom in Jecheon is an excellent choice. Located in the green mountains of Chungbuk Province, visitors can not only enjoy the calming powers of nature but also the many spa facilities of the resort.
Here's why Forest Resom and Have9 Healing Spa is one of the best addresses for wellness in Korea.
Don't miss this Seoul and Korea related content:
I visited Forest Resom and Have9 Healing Spa as a 2020 Wellness Tourism Supporters from the Korea Tourism Organization. All opinions are my own.
Key Facts about Forest Resom
Forest Resom refers to the resort section
Have9 Healing Spa is the spa facility of the resort
Over 30 different spa & healing programs available
80% of the resort area is covered in forest
The resort was opened in the 90s for golfers and winter sport enthusiasts
The spa was added in the 2000s
Opening Hours: 9 AM – 6:00 PM
Have9 Healing Spa All-Day Ticket: KRW 53,000 (adults)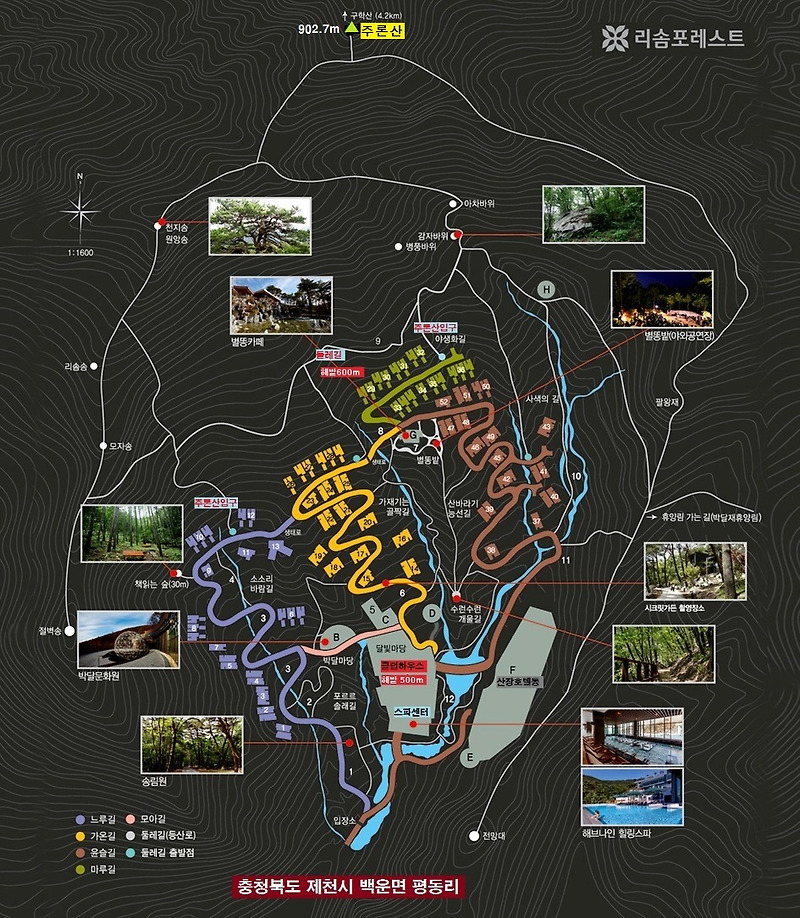 How to get to Forest Resom
Forest Resom is located in the green mountains outside of Jecheon in Chungbuk Province. There are a lot of convenient and easy ways to reach the resort and spa.
By Express Bus
Take the express bus directly to Jecheon Express Bus Terminal. From there, you can take a 20-minute taxi ride straight to Forest Resom.
By Train
You can also take the train from Seoul's Cheongnyangni Station to Jecheon Station and take a taxi from there.
By Car
If you have a car, driving directly to Forest Resom is also a great option – depending on where you are leaving from. I drove to the museum from Cheongju (Chungbuk Province), which was a smooth ride that took around 1.5 hours.
Address: 365, Geumbong-ro, Baegun-myeon, Jecheon-si, Chungcheongbuk-do
What not to miss at Forest Resom
Forest Resom is famous for its high-class spas but also offers various healing programs, including trekking, walking, and meditating. It's ideal for a weekend getaway to recharge your batteries. Here's what you absolutely shouldn't miss at Forest Resom.
Sasang Constitutional Spa
Have9 Healing Spa features over 30 different spa programs. One of these specalized spas is the Sasang Constitutional Spa. This program is based on traditional Korean healing methods developed by Che-Ma Yi in the late Joseon Dynasty.
According to this model, people fall into four health categories: Taeyangin, Taeumin, Soyangin and Soeumin. A health expert will analyze your fingerprints at the entrance of the spa to find out which type you are. Depending on the health type, you will then be recommended a spa routine tailored to your needs. After the spa, tea and treats are waiting for you by the exit.
Have9 Open Air Spa
My favorite part of the Have9 Spa at Forest Resom was the outdoor baths.
Infinity Pool
The biggest feature of the open-air spa is the infinity pool. From there, you get amazing views of the surrounding Jurong Mountain.
Theme Spa
The outdoor spa also includes a cold bath, aroma bath, a Hinoki bath (a Japanese wooden bathtub) and a number of different event baths with different minerals and color themes.
Valley Spa Zone
If you are looking for a more intimate place to relax, the private stone spas are ideal for you! Basically, they are huge cut-out stones that function as bathtubs. They are placed in green areas all across the edges of the outdoor spa for unforgettable views of the forest and mountains.
Aqua Floating Yoga
One of the most popular – and most fun! – programs at Have9 Spa is aqua floating yoga. This type of yoga involves a mat on the surface of the water on which you perform different guided exercises. Aqua floating yoga helps with your balance and coordination and also builds muscle strength.
Healing Forest Walking Courses
Forest Resom's eco healing program also involves various walking courses that aim to heal your body and soul. There are three recommended healing treks that range from 1.2 to 2.8 kilometers. Along the way, you will pass all kinds of trees, wildflowers and maybe even some wild deer and rare birds.
Meteor Café
This beautiful café is located near the cottages on the hill behind the spa area. From this highest point, you have a beautiful view of the forest and mountains in the distance. It's perfect for grabbing a cup of coffee or tea and read a good book while listening to the birds in the trees.
Hillside Cottages & Villas
I highly recommend staying at one of the beautiful hillside cottages/villas at Forest Resom. They are absolutely beautiful and come in different sizes. I stayed with three other girls in a 2 bedroom villa that featured 1 living room, 1 bedroom, 1 ondol (Korean style bedroom) and 1 bathroom. The best part of the house was the beautiful balcony with stunning mountain views.
Ready for a relaxing visit to Forest Resom?
As you can see, there are many reasons why one would visit Forest Resom. It's a beautiful place where you can truly relax and recharge your batteries. I highly recommend checking it out if you are looking for a wellness resort in Korea.
Get your Free Seoul City Check List
This downloadable check list for Seoul contains insider information on what to see, do, eat and where to shop and party in Seoul, South Korea.
Love it?
Pin it and save it for later!
Check out more Korea Content: